My First Waterbirth As A Doula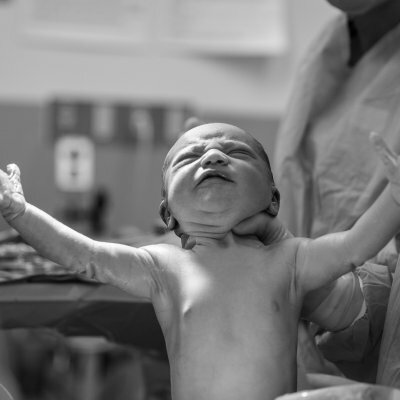 When my first client approached me about wanting a water birth I was a little weirded out to be honest. I never wanted to do it myself with any of my births. I always thought, why would you want to sit in "your stuff?" And "what if you poop?" These are just some of the random thoughts I had over the years as I delivered our seven children. But I never expressed these thoughts to my client. I was very encouraging to her because this was her birth, her story, her body.
I did more research on water birth and what went into it and even watched videos of some water births. I wanted to know more about why Mama's wanted water births. How do some people feel about babies being born in water and what they think it feels like for the baby.
During my research I found that water birth actually can provide an easy transition for the baby to come from the warmth mama's womb into the warmth of water. For some Mama's being in water even helped make contractions less painful & their bellies didn't feel heavy.
A couple of days before the baby was due, my client was informed that her blood pressure was high and she more than likely would not be able to have the birth she wanted. It was disappointing to her, even though her ultimate goal was to have a healthy baby. To hear the disappointment in her voice hurt me that she may not be able to do the birth she wanted. With her blood pressure being higher than they liked she was going to be induced with cervidil and meds to lower her blood pressure. Water birth was unlikely if she couldn't get her blood pressure down. I encouraged her not to focus on that and focus on seeing her baby soon.
The day of the birth came or should I say the wee hours of morning before the birds are singing that it was time for me to come. Once I got there she was contracting beautifully and had amazing focus. The nurse was worried that they were going to have to give her more meds for her blood pressure again. Again I encouraged her to stay focused with each contraction and not the words from the nurse. After I did some massage, some gentle touch from her sister and talking to her, she was able to get her blood pressure down. After it had stayed down for an hour without any interventions we heard the best news, "we can blow up the pool it you would like." In my mind I was cheering and screaming "YES!!!"
After it was blown up and the warm water had filled the pool we guided her in. She said it felt amazing. The water helped take pressure off and relaxed her. We kept her focused with encouraging words. Her sister had a cup and was sprinkling it over her belly, arms and back. As she was laying on her side I held her leg like a peanut ball would to keep her pelvis open. It was so amazing so the level of control that came over her.
As the time came for pushing I no longer felt like this was gross. The time finally came and baby was out. It was the coolest thing I've ever seen. She had a little bit of cuddle time in the pool and then it was time to move back to the bed. It amazed me how she was able to get up like a boss from the pool to the bed to birth the placenta and more cuddles with baby.
My view on water births have definitely changed. You don't sit in your "stuff." It really is another beautiful way for a baby to come into the world.
If you are thinking about a water birth explore it further. Ask others if they have had one or know someone who has. If you have locked that door and thrown away the key, I ask you to keep an open mind. Water birth isn't for everyone. You may want to have a water birth and once you're in the pool realize it's not for you. Then on the other hand you may say it's not for me and try and end up saying it's the best decision you could have made for your birth. Just know there's no right or wrong to they way you want your story to be.
If you are interested in having a water birth or using a doula, contact me today for a free consultation to see if having a doula is right for you. Being centrally located in Lebanon, Ohio I service all areas of Cincinnati and Dayton including Mason, West Chester, Hyde Park, Northern Kentucky, Centerville, Beavercreek, Huber Heights and more.