The Key Member of Your Birth Support Team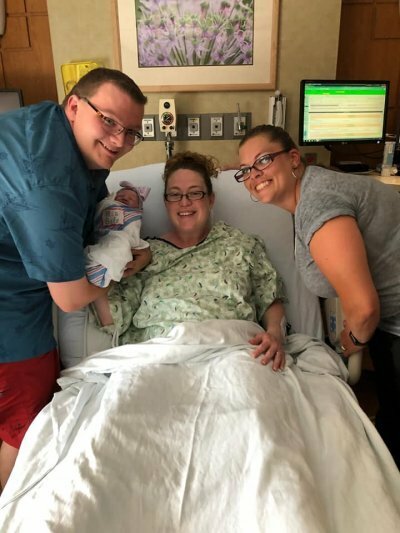 Birth Doula. Birth Companion. Birth Coach. All are various descriptions that are commonly used to describe a doula. The word doula is a Greek word meaning "woman's servant." Women have been serving others in childbirth for centuries and have proven that support from women has a positive impact on labor.
What is a doula?
A doula is a professional trained in childbirth and/or postpartum who provides emotional, physical, and educational support to a mother who is expecting, is experiencing labor, or has recently given birth. The purpose of a doula is to help women have a safe, pleasant, and memorable experience. A doua is in near constant contact with you during labor as your hospital care team (doctors, nurses, etc) are not able to be while they are with other patients in addition to you.
What does a doula do?
A doula typically begins to develop a relationship with Mama in the second trimester of pregnancy. Many doulas are available by phone in order to answer questions or address concerns that come up during the pregnancy. While doulas are knowledgeable about many medical aspects of labor and delivery, they are not doctors and will not provide any medical advice. Due to this, they can help Mama's gain a better understanding of the procedures and possible complications in late pregnancy or delivery. Many doula's will often assist in helping create a birth plan and ensuring that Mama knows what her options are for labor and delivery. It is important that parents understand what is going to happen before they arrive to the labor and delivery room so they can be more prepared for what they might encounter.
During delivery, doulas are in constant and close proximity to the mother. Doula's provide comfort and help reduce the feelings of pain with breathing techniques, relaxation techniques, massage or counter pressure, and various laboring positions. Doulas also encourage participation from the partner so they can be both involved and effective in the delivery room and offer reassurance to both parents. If the birth partner needs a break, the doula is still with the Mama to ensure she is not alone. This helps bring a sense of calm to both parents because sometimes even the birth partner needs a minute to rest or grab a bite to eat.
A doula is Mama's advocate, constantly encouraging and assisting to fulfill specific desires she for the birth. The doula's goal is to help Mama experience a positive and safe birth, regardless if it whether medicated, unmedicated or via cesarean.
After birth, most doulas will spend time supporting Mama through the breastfeeding process and making sure they transition to the postpartum floor without issue.
What are the benefits of having a doula?
A recent Cochrane Review, Continuous Support for Women During Childbirth, showed a very high number of positive birth outcomes when a doula was present. Some of the statistics were:
25% decrease in the risk of Cesarean; the largest effect was seen with a doula (39% decrease)*

8% increase in the likelihood of a spontaneous vaginal birth; the largest effect was seen with a doula (15% increase)*

10% decrease in the use of any medications for pain relief

Shorter labors by 41 minutes on average

38% decrease in the baby's risk of a low five minute Apgar score

31% decrease in the risk of being dissatisfied with the birth experience; mothers' risk of being dissatisfied with the birth experience was reduced with continuous support provided by a doula or someone in their social network (family or friend), but not hospital staff
Touch and massage to reduce stress and anxiety during labor are one of many tools that doula's use which help contribute to these statistics. According to physicians Marshal Klaus and John Kennell, massage helps "stimulate the production of natural oxytocin. The pituitary gland secretes natural oxytocin to the bloodstream (causing uterine contractions) and the brain (resulting in feelings of well-being and drowsiness, along with a higher pain threshold)." This is the same oxytocin that a doctor may give a Mama during labor to help with pain, with the exception that you would be receiving it naturally which also allows you keep moving during labor should you so choose. If you were to receive the medicated version of oxytocin, you would lose the ability to move around during labor.
Are doulas only useful if planning an unmedicated birth?
A doula's presence can be beneficial no matter what type of birth you are planning. Many women report needing fewer interventions when they have a doula. However, the primary role of the doula is to help Mama's have a pleasant birth experience–not to help them choose the type of birth. That choice belongs to a Mama and a decision she would consult with her birth partner and her doctor.
For medicated births, a doula will continue to provide emotional, informational, and physical support through labor and the administration of medications. Doulas work beside Mama's to assist them deal with any potential side effects from medications. Doulas may also help with other needs where medication may be inadequate; this is because even with medication, there is likely to still be discomfort during the process.
If Mama is having a cesarean, a doula can still be helpful by providing constant support and encouragement. Many cesareans results from unexpected situations, leaving Mama with a feeling of failure as well as unprepared, scared and disappointed. A doula can be attentive to Mama throughout the process, and helping to explain what is going to happen with the cesarean or during the cesarean depending on what the doctor/hospital says. This allows the birth partner to assist with the baby and accompany the newborn to the nursery if there are complications. This also allows the birth partner to not feel the pressure of needing to get answers and focus on the Mama as the birth partner may be feeling many of the same things as Mama.
Conclusion
Doulas can be a valuable asset women due to the support they provide – whether physical or support and the knowledge they bring to the birth experience. If you are interested in a doula, find one in your area.
If you are in the Cincinnati or Dayton, Ohio area – look no further. Tamara Kankowski is a certified birth and postpartum doula as well as a childbirth educator. Tamara provides support to families everyday across the region. Tamara has an affordable birth doula package that includes personalized support during your pregnancy, labor and delivery that continues through your first eight weeks postpartum.