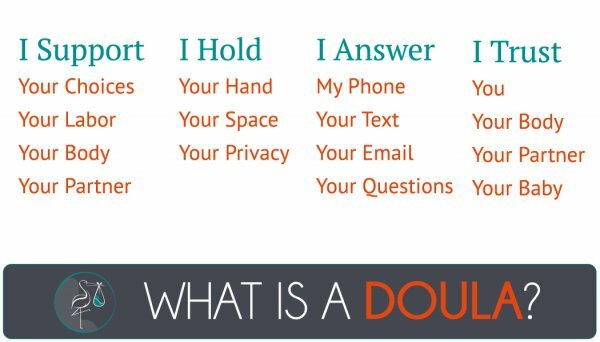 Channel 12 recently did a story on how more couples are choosing doulas. I thought this would be a good time to review some of those reasons why people choose a doula and what is a doulas role.
A doula empowers you to confidently make the choices you need to throughout your pregnancy and birth. A doula acts as an unbiased friend and supporter, who does not judge your choices, but simply helps you to be aware of your options.
A doula helps makes the focus more on being the emotional and mental support you need. As your questions, excitement and even anxieties arise, your doula can be another resource for you to talk through and work out your options.
A doula can share many different avenues with you -- options that your physician medical provider may not always mention or may not promote. These pregnancy, birth and post-partum options can include everything from cord clamping to breastfeeding.
Here are some of the top reasons why couples are choosing doulas:
Helps with the Intensity of Birth - a doula is there to be a calm and encouraging presence for your delivery. This can help reduce your fears and anxieties which in turn can reduce the amount of pain you feel during labor.
Accessible for Support
Hiring a doula allows you to have someone who could give you legitimate encouragement and advice at all times of day. Most doulas are available 24/7 through phone, text or social media. Doulas are prepared to answer your questions at 2am when you dont want to call your doctor cause you having trouble sleeping and have a question think they might feel is silly.
Unbiased Support
Doulas are there for your family only. They are not soliciting unwanted advice, they work for YOU. They dont represent a doctor or hospital that has some other "best practices" that they want you to follow through with. Doulas will support you with your decisions - whether its a home birth or a hospital birth, natural child birth or using pain medication - because they want your experience to be the way you want it.
Statistics Support Doulas
According to Cochrane, doulas who provide continuous labor support help to creating great outcomes for both mom and baby. Some benefits include:
mom is more likely to give birth spontaneously
mom is less likely to give birth via caesarean or with a vacuum or forceps
mom is less likely to use pain medications
typically mom's had slightly shorter labors
If you are interested in using a doula, contact Tamara today! Stork Helpers is currently helping families in the greater Cincinnati and Dayton areas with pregnancy and postpartum care. Whether you are interested in a home birth or a hospital birth, going to have a c-section or vaginal birth, Tamara is here for you.