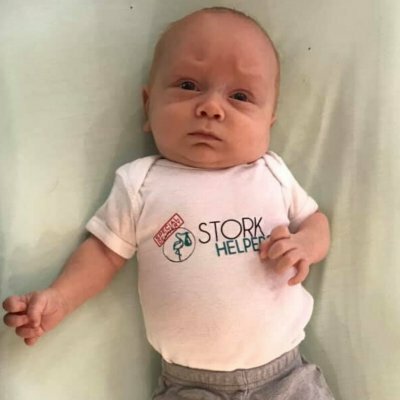 When we were expecting Rose we hired one of the most expensive but most experienced doulas because we really wanted a VBAC. As everyone knows Rose had other plans and ended up having to be a repeat C-section. It was so difficult having the doula there because she was just another reminder of the failed VBAC.
For Gavin I wasn't planning on hiring a Doula but the stars aligned just right and we ended up hiring Stork Helpers. Because of my experience with Rose I was adamant that if you were going to have another C-section I did not want the doula present. First of all that was a mistake. With Nick staying with Gavin and our parents helping pack my hospital room (they only hold it for 24 hrs and make no guarantees about your belongings), I was left by myself in recovery. Due to the severity of the C-section I was there for a few hours and would have loved my doula to be there but hindsight is 20-20.

What really made the experience was the postpartum care given. It was so helpful to be able to talk about it with experienced third-party. And so amazing to have a meal provided that we didn't have to worry about. Tamara Kankowski was so amazing in sending us notes, helping celebrate our new baby, and being a wonderful listener.

I really didn't think that I would need a Doula with the way our birth was going to go. But it was the postpartum care that really made it worth it. If by chance you're in the Cincinnati area, I highly encourage you to seek out Stork's Helpers.
Want to find a Doula?
If you are in the Cincinnati or Dayton, Ohio area – look no further. Tamara Kankowski is a certified birth and postpartum doula as well as a childbirth educator. Tamara provides support to families everyday across the region. Tamara has an affordable birth doula package that includes personalized support during your pregnancy, labor and delivery that continues through your first eight weeks postpartum. Contact Tamara today to set up a free consultation!
If you are outside the area, DoulaMatch.net is a great resource to find doulas in your area or go online and see if there are Meet the Doula events near you!