Doulas: A Natural Pain Reliever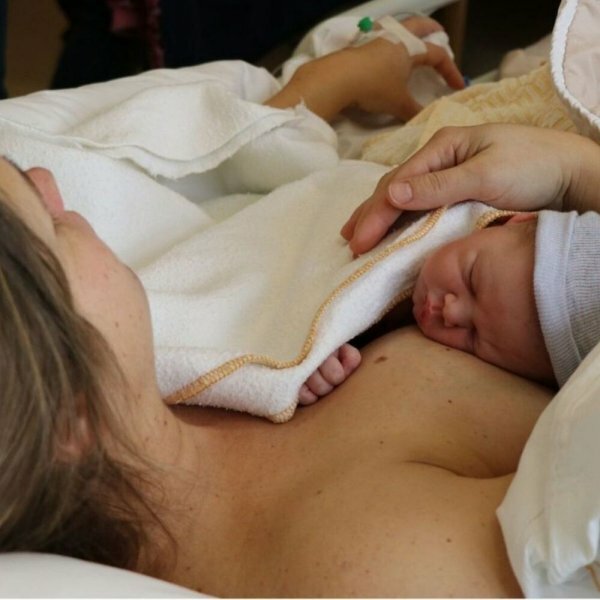 Birth Doula. Birth Companion. Birth Coach. All are various descriptions that are commonly used to describe a doula. The word doula is a Greek word meaning "woman's servant." Women have been serving others in childbirth for centuries and have proven that support from women has a positive impact on labor.
So what exactly is a birth doula? A birth doula is a companion who provides women, their birth partner and families with continuous support during labor and birth. This continuous support enables doulas to help provide pain relief during childbirth in a natural way; when a Mama feels supported and informed, her confidence is boosted. Doulas can help with pain management in four ways.
Physical Support
Doulas are trained in providing physical support to Mama through various means like touch and massage. Their job during labor is to make you feel as comfortable as possible. Whether that is laboring in bed or getting up and moving (when possible) to use different positions. A doula is there to listen and understand what might help make you more comfortable in the moment. Believe it or not, upright labor positions can often be more comfortable and have the added benefit to let gravity help do the work as opposed to lying in a bed for hours. Doulas are trained in how to apply pressure to your back during contractions (called counter pressure) to help ease the process. Doulas can also assist with other tasks such as making sure you have ice, food, or drinks or fanning you if you got hot. Need a hot or cold compress, feeling nauseous? Your doula is there for you for anything that might help keep you more comfortable and allows your birth partner to focus more on you.


"My husband (partner) is my left hand and my doula is my right."
– from Doulas Making a Difference
Emotional Support
Emotional support is another key factor in how doulas help manage pain during childbirth. The job of your doula is to create a calm environment for you to birth in. Hospitals can be stressful places for people to be, there is a lot going on, people are coming and going, monitors are beeping, noises in the hallway, tools are being readied. Your doula will help to give you encouragement, answer questions and remind you that you are supported. Research shows that when Mama feels confident, capable and cared for, Mama feel less pain during labor because they now perceive the pain as more manageable which allows them to handle the pain better. Doulas can also help mama by keeping labor positive. The sensations you feel from laboring (contractions, etc.) are productive and serve a purpose to help deliver your baby.
Kerstin Uvnäs Moberg, a Swedish researcher, is an expert in oxytocin, which is also known as the "love" hormone. She discusses that doulas actually help facilitate the release of oxytocin in your system, which decreases your stress, fears and anxieties. When this occurs, your contractions become more effective, which can help reduce the amount of time you are in labor. Endorphins, your body's own natural pain relieving hormone, will also increase which helps make labor feel less painful.
Childbirth Preparation and Advocacy
Doulas help prepare you and your birth partner for childbirth through education, information, practicing skills and prenatal visits and follows up. Doulas assist by helping you talk through your anxieties and fears and be able to provide information to bring peace of mind or inform you of techniques that can be used – such as breathing, relaxation, movement or various positions. Childbirth classes can also be a great resource in education towards what to expect and allow you to be more informed about birth. Your doula can also assist you in creating a birth plan or preferences for birth so that you are aware of all the options available to you.
Advocacy is another way that doulas help decrease pain. A doula typically will not speak for you, but they will encourage you to speak up for what you want. Doulas are trained on how to help facilitate communications between the pregnant Mama and her health care team without interfering. Your voice is important and as you feel more confident in your questions and what you want, you will feel less stressed.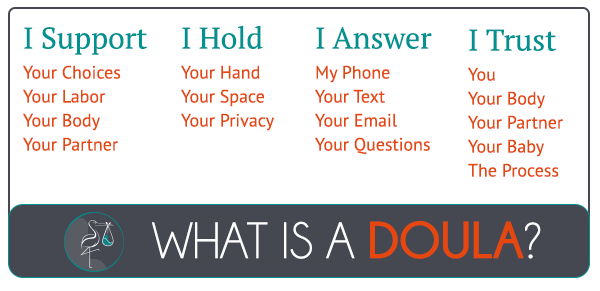 Review the Evidence
The 2017 Cochrane Review showed studies that included at least 26 randomized, controlled trials that tested the effects of continuous labor support on more than 15,000 people total. The people in the studies were randomly assigned to receive either one-to-one continuous support from someone or "usual care." The type of support provided varied from a hospital staff member, a doula, childbirth educator, a retired nurse, family member or friend.
Researchers found the following:
25% decrease in the risk of Cesarean; the largest effect was seen with a doula (39% decrease)*

8% increase in the likelihood of a spontaneous vaginal birth; the largest effect was seen with a doula (15% increase)*

10% decrease in the use of any medications for pain relief

Shorter labors by 41 minutes on average

38% decrease in the baby's risk of a low five minute Apgar score

31% decrease in the risk of being dissatisfied with the birth experience; mothers' risk of being dissatisfied with the birth experience was reduced with continuous support provided by a doula or someone in their social network (family or friend), but not hospital staff
Conclusion
Doulas can be a valuable asset women due to the support they provide – whether physical or support and the knowledge they bring. All of these factors can help decrease pain. People who use a doula report experience less anxiety during labor and are more likely to be highly satisfied with their birth experience. Doulas can be a valuable, evidence based partner for your birth experience. If you are interested in a doula, find one in your area.
If you are in the Cincinnati or Dayton, Ohio area – look no further. Tamara Kankowski is a certified birth and postpartum doula as well as a childbirth educator. Tamara provides support to families everyday across the region. Tamara has an affordable birth doula package that includes personalized support during your pregnancy, labor and delivery that continues through your first eight weeks postpartum.