5 Love Languages of Pregnancy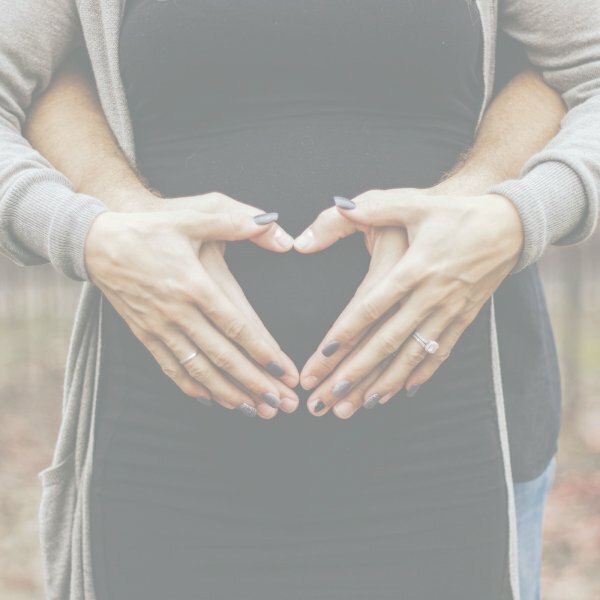 The month of February is all about LOVE. Everyone loves to feel it, receive it & give it. Love is such an intimate and powerful part of our lives. It's no different in pregnancy, birth and postpartum. Over the next three weeks, I will be applying The 5 Love Languages written by Gary Chaplain to pregnancy, childbirth and postpartum.
The 5 Love Languages is a book that my husband and I first read at the encouragement of our pastor before we got married. The 5 Love Languages outline both how we communicate and what we need to receive in our relationships. The book was a huge help in our first years together as we learned more about how the other not only communicates but receives information. There is even a book now based around children that is also helpful.
What are The 5 Love Languages?
Words of affirmation: Expressing affection through spoken affection, praise or appreciation.

Acts of service: Actions, rather than words, are used to show and receive love.

Receiving gifts: Gifting is symbolic of love and affection.

Quality time: Expressing affection with undivided, undistracted attention.

Physical touch: It can range from having sex to holding hands. With this love language, the speaker feels affection through physical touch.
Below, I will discuss how you can use each language during pregnancy.

Words of Affirmation
Giving mama encouraging words can really make her day - whether she is your spouse, birth partner best friend, or family member. There are many moments during pregnancy where mama isn't feeling beautiful. She is often dealing with sleeplessness, being uncomfortable, cramps, morning sickness along with an influx of hormones to grow her baby. Telling her how beautiful she is will light up her day even if she might not show it.
There comes a time when most Mama's are just done being pregnant. Praising her in those times that she's got this or not much longer. Helping her know it's just a season & soon baby will be in her arms. Having her vision future events might help her get through as well. You can show words of affirmation also through a letter or card and it doesn't have to be for any other reason than to let her know she is special and you appreciate the sacrifices she is making - mentally, emotionally and physically to bring this new life into the world.
Acts of Service
Acts of Service can be where its at sometimes. Whether it's getting her those 2am food cravings or helping Mama get shoes on, they can mean the world to your loved one. Even the simplest of tasks can become harder for Mama as her belly continues to grow, especially in those last twenty weeks. Anything you can do to help her so she can rest would be just a joy. After all, that's the goal is for her to rest so the baby can grow and she can prepare her body for the most physically challenging job she will ever have - childbirth.
What are other ways you can help by showing Acts of Service - do the laundry, clean the house, make sure you pick things up off the floor so she doesn't have to bend over. You can also remember to keep things in easier to reach places. If you have other children, pick the kid(s) up from daycare on the way home so she can go straight home and put her feet up for a few minutes.
Receiving Gifts
Oh man you can really earn some brownie points with this one. Most Mama's are feeling some aches & pain. Their bodies are constantly changing & adjusting to a growing baby. Getting them in for a massage, pedicure and/or getting their hair done makes a difference. Those things that continue to seem so small give her that extra confidence she can do this. Surprising her with a 3D ultrasound and/or a photo shoot to have memories of the journey with this little bundle is also a great gift.
Gifts don't have to be big - her favorite chocolate bar she has been craving, a new book for while she is resting, a gift card to go to dinner with her girlfriends all are appreciated. Life is short & making memories helps capture the beauty & joy you have in that moment & moments to come.
Quality Time
Giving her your undivided attention is really important to her during this time. There are a lot of fears that tend to set in and they are not always rational. Calming her & giving her that time can help set those fears to the side. Putting down the TV remote, the phone & video games. Those things can wait to give her time to express her concerns or just spend time with you.
Take her out to dinner, play a board game or snuggling on the couch and watch a movie together. Go for a walk, shop for the baby registry, decorate the nursery and baby proof the house. Doing those things together can be a great way to shower her with love.
Physical Touch
Honestly, sometimes Mama's don't like to be touched that much (it's not really my love language at all). But even for those where its not our primary language, we all still need that hug, kiss or snuggles. Giving her some extra loving, especially during this time, helps her have that feeling of security. Life can feel out of control & a loving touch can show her she's not in this alone. Sometimes its as simple as holding her hand or giving her feet some love while you watch TV.
Pregnancy can seem like a lifetime one minute and thats its going by in a second the next. Anyway that you can help Mama feel encouraged, loved & secure will help her prepare her for what's to come. How can you show the pregnant person in your life The 5 Love Languages?
Want a Doula to Help During This Time?
If you are in the Cincinnati or Dayton, Ohio area – look no further. Tamara Kankowski is a certified birth and postpartum doula as well as a childbirth educator. Tamara provides support to families everyday across the region. Tamara has an affordable birth doula package that includes personalized support during your pregnancy, labor and delivery that continues through your first eight weeks postpartum. A birth package includes unlimited support throughout both pregnancy and labor - 24/7, including phone/text support, helping with birth positions and support to guide you to have the birth experience that you want!