Stork Helpers Awarded Best Doulas of Cincinnati & Dayton
Back To Blog
Stork Helpers Awarded Best Doulas of Cincinnati & Dayton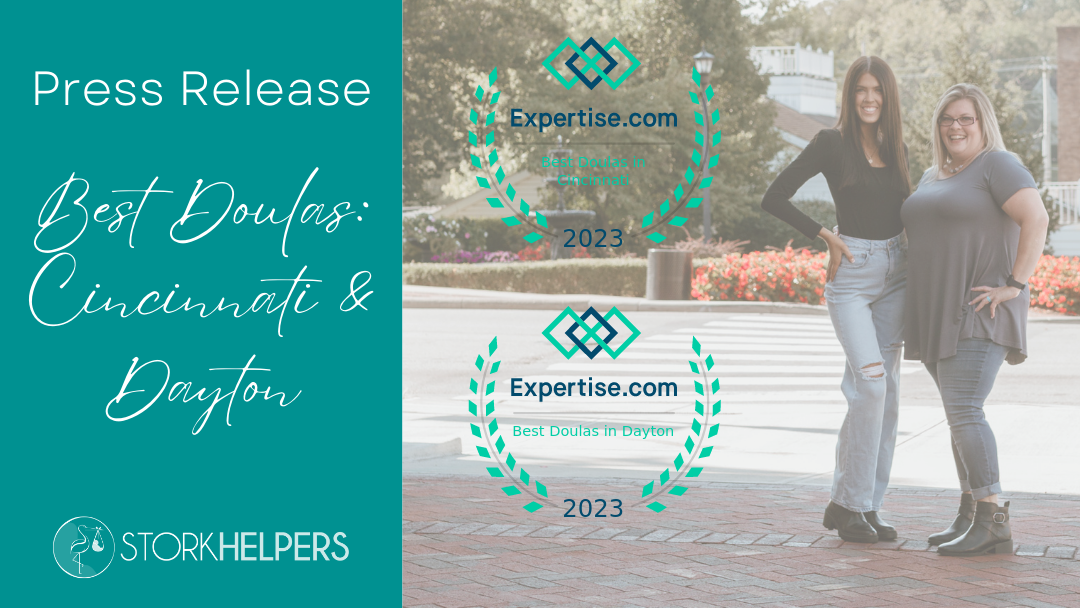 FOR IMMEDIATE RELEASE: 12/19/22
Cincinnati, Ohio: Today, Stork Helpers LLC, a doula agency specializing in supporting families as they navigate pregnancy, childbirth and postpartum was awarded two awards from Expertise.com.
After being founded in 2018 Stork Helpers has seen tremendous growth, especially through the pandemic as families become more vigilant about their birth rights and how they wanted their story to be told.
The first award was that Stork Helpers was awarded the "Best Doulas in Cincinnati" for 2023 for the fourth consecutive year. Expertise.com evaluated 70 doulas across the area and then narrowed that list down, awarded this honor to only 3 doulas across the Cincinnati area.
The second award was being honored as a "Best Doulas in Dayton" for 2023, the first year that Dayton has had their own category for doulas. For Dayton, 33 doulas were evaluated and the award was given to only 2 doulas in the area.
Expertise.com evaluated doulas across five categories:
Availability

Qualifications

Reputation

Experience

Professionalism
Tamara Kankowski, founder of Stork Helpers said "We are thrilled to be chosen once again as one of the best doulas for Cincinnati and Dayton. Providing support for families from conception through postpartum is an important piece of the puzzle for many families that helps ease anxiety. Many times providers have so many patients that families can't always see the same provider or nurse between visits, then they go to a hospital where they don't know anyone and may have several different nurses during shift changes. Having someone by their side from the beginning to the end who knows their history, concerns and how they envision their birth is a critical component to helping women birth without fear."
About Stork Helpers: Stork Helpers is based out of Lebanon, Ohio serving families across Cincinnati, Dayton, Northern Kentucky and surrounding areas. Stork Helpers currently has two team members as Tamara Kankowski recently added Skylar Rae Cruz to the team to help provide rounded support for their families. Stork Helpers supported over 170 families since its inception in 2018 through hospital births, home births as well as cesareans.