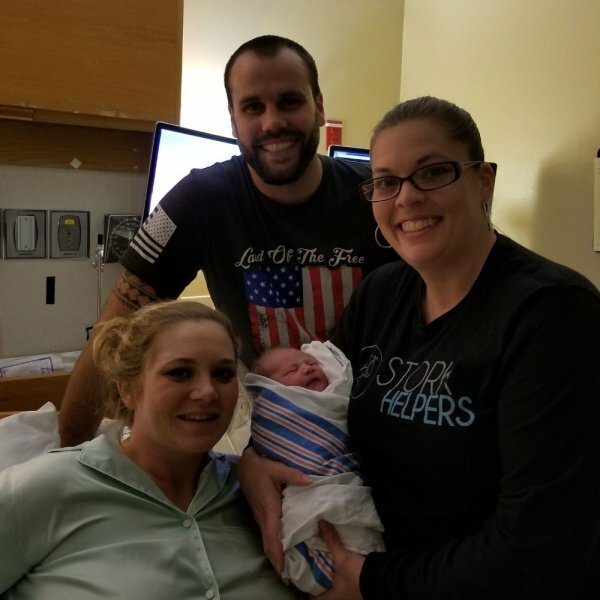 One of the common questions I hear from couples when thinking about a douls is whether Dad will be left out. That if I am there supporting mom, dad will be pushed back to the side. However, that couldn't be further from the truth. Doulas are for dads just as they are for mom. Doula's do not replace any person in your family, doulas are a member of your support team.
The role of the doula is never to take the place of husbands or partners in labor. Doulas are the to enhance the birth experience for all those involved. More husbands are taking an active role in the birth process and that is great news for Mama's. However, some partners prefer to enjoy the delivery without having to stand in as the labor coach. Being the coach can be exhausting sometimes, especially because many do not know what to do in certain situations, like finding a more comfortable labor position. They may not know the answer to a question and but feel uncomfortable bothering the nurse while the nurse is dealing with another patient.
By having a doula as a part of the birth team, a father is free to do support how he chooses. Doulas can encourage the father to use comfort techniques and can step in if he wants a break. He can take a break for a few minutes to grab a bite to eat, use the restroom, update family with a phone call or sit down for a few minutes. The long hours can be tiring and birth partners have been known to pass out from being so focused on Mama, they are not taking care of themselves. Having a doula allows the father to support his partner emotionally and to also enjoy the experience without the pressure of trying to remember everything he learned in childbirth class!
I encourage dads to come to meetings with Mama. While much of the meetings focus is on how Mama and baby are doing, this time is a great opportunity for us to get to know each other as well. I also host Meet the Doula events where couples can come together to ask questions. I want to get to know you, so that we can be partners in supporting Mama and get to know your needs and concerns too.
Education is a big part of the birth process, especially when it is your first child. I encourage dads to come along to childbirth classes, doctors appointments and meetings about birth plans. Ask questions and understand the medical jargon, because you will hear a lot of in the labor and delivery room. Dads being part of the birth plan is critical because as parents, you have options. You have a lot more options on how the labor and delivery process goes than what you realize because many of the options will never be discussed with you if you don't know what to ask.
Dads who feel knowledgeable about the process and support, feel they are able to take a bigger role in supporting mom during labor. This is the goal - to work together to support Mama so the birth experience is pleasant for everyone.
Some dads are not into birth. I have had dads who can't stand to see their wife in pain, some dads who just don't know what to do. Some dads are great at offering love and support, but can't quite do a massage the way Mama needs. Some dads don't want to be the birth coach because they want to stand by their wife and watch in awe at the wonder of what is happening. Those are all okay!
A good doula knows how to work around all the logistics for both parents. Just as every labor is different, every set of parents are different and need varying levels of support. I have been the doula that is more on the sidelines coaching dad because he wanted to do it all and I have been the doula crouched behind Mama in her bed providing counter pressure and doing hip squeezes to help keep things moving.
The doula's role is not to interfere or to interject in your birth experience. The doula is there as a key partner of your both support team - for both parents.
How to find a Doula?
If you are in the Cincinnati or Dayton, Ohio area – look no further. Tamara Kankowski is a certified birth and postpartum doula as well as a childbirth educator. Tamara provides support to families everyday across the region. Tamara has an affordable birth doula package that includes personalized support during your pregnancy, labor and delivery that continues through your first eight weeks postpartum.
If you are outside the area, DoulaMatch.net is a great resource to find doulas in your area or go online and see if there are Meet the Doula events near you!