A Mom's Story: Courtney Couch

My name is Courtney Couch. I always knew I wanted to have children and wanted to start young. I grew up babysitting during summers, on weekends during the school year with an occasional school night, volunteering in the church nursery or camps, and played with my cousins daily.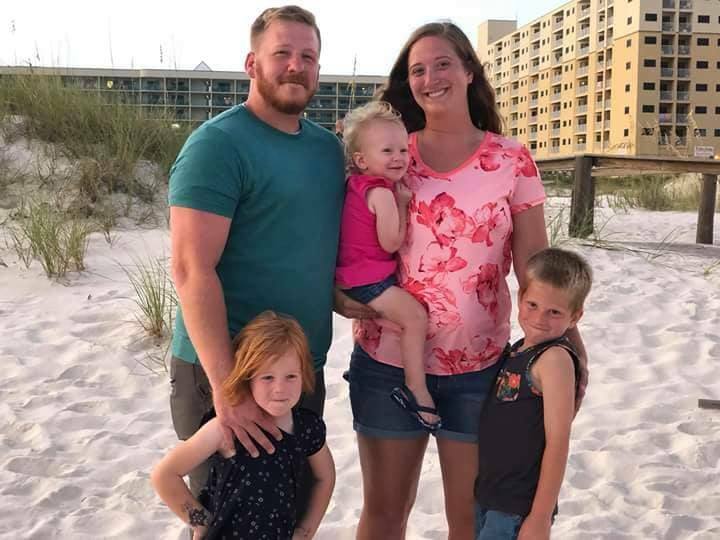 I met my husband and we married at 18 years old. Call me crazy, but we were blessed to start our family early in that next year. I was pretty miserable my whole pregnancy with back pain, swelling, never feeling full, and feeling so sick and nauseous at night. Little did I know those were normal symptoms! Having always wanted a big family I wasn't so sure that I could willingly go through all this again! At 41 weeks I was induced and couldn't wait to hold our baby boy! Out of having a fear of needles I did NOT want an epidural. I did not educate myself of pain management so I opted for an IV with pain medicine. I quickly found out that the medicine went straight to my baby and I was not comfortable with that, so we stopped that; I just tried to focus on breathing and getting through each contraction one at a time. I was on pitocin and my water broke on itself. You always hear stories but you can't really imagine what certain things feel like until you personally experience them. My water breaking was one of those times! It broke while I was in the hospital bed and I just felt like I was peeing myself and could not stop. I was cleaned up by the help from my nurses and that is really when my progression and the worst contractions started. I hit 7 cm dilated and my husband couldn't stand seeing me in pain anymore and called for an epidural. Mentally I knew it would help ease the pain, but I was so scared of the entire epidural placement and procedure. My OB called time for pushing and I could not feel a single thing. I had my sister in law and mother in law holding one leg, my husband and mom holding another leg, and my dad was alternating holding the personal fan and oxygen mask on my face. After 4 hours of pushing my sweet baby boy made his earthly appearance! He was immediately placed on my chest and I was overwhelmed with joy. We started our breastfeeding journey shortly after birth. Life at home was different, but we got ourselves into a new routine. When Bentlee slept, I slept. I did not pump at first so I was the only one to do feedings. Once again I did not educate myself on breastfeeding enough and at 5 months I felt I wasn't doing anything but nursing. I didn't know about leaps or how to build my supply so we switched to formula. Bentlee remained in the 80th-90th% for height and weight and enjoyed watching our little human growing and hitting milestones. We made an announcement when Bentlee was a little over 10 months old that he would be a big brother!
Brooklynn was already loved by her big brother before he even got to see her. He was so interested in rubbing my belly and laying on me to feel his little sister growing inside. Brooklynn tried coming into our arms before we were ready for her, but we were able to get my contractions to stop in the hospital. From about 36 weeks until I delivered her I had around the clock constant contractions. When they got to about 4 minutes apart and getting stronger with each one I would go in to be checked, but would only stay between 1-3 cm dilated. Since I was not progressing anymore than 3 cm they would not admit me. I started curb walking and stair climbing. I still have no idea how I didn't at least gain somewhat of a butt from all the stairs I did! The countdown continued and 3 days before her due date we went on our nightly walk with Bentlee in the stroller. I knew it was baby time, so we went into Labor and Delivery and I had finally hit my golden 6 cm dilated to get me admitted! Not even 3 hours after being admitted I had completely stopped progressing. The on call midwife told me to rest through the night and they would start pitocin in the morning. Obviously I didn't get much sleep; not only was I not in my bed, but I was huge pregnant and not comfortable at all. In the morning I opted for an epidural from the start because I wanted to make sure I was going to be able to feel when I pushed. I was on pitocin for about 3 hours and my nurse came in to switch me from laying on my left side to my right. I told her I couldn't lay my top leg down onto my bottom leg. I could not get my legs to touch at all. So she came back over and pulled my top leg back over and I just saw her jaw hit the floor! She was holding my baby's head and was telling me not to push at all and explained that my baby was coming! My husband came over to hold the head while the nurse went to go get the doctor who was delivering a baby in the next room. 3 pushes later and our first little girl, Brooklynn Anne came into my arms screaming! Our new family of 4 had to get ourselves into a new routine when we got home. This time I couldn't just sleep when the baby slept because I had a toddler running around and tearing up the house. It took some time, but we found out what worked for us.
With military life, comes relocating. We moved our little family of 4 from Fort Riley, Kansas to Schofield Barracks, Hawaii. In Hawaii we found an amazing play group and I started working again at the on post daycare. Breastfeeding Brooklynn was not always easy and it came with its troubles and pain, but I more educated and confident this time around. We had thrush which was painful in itself and took a little bit to finally clear up. We also had a nightmare that every nursing mother is terrified of, which was an incident when Brooklynn bit my nipple after having teeth. It wasn't just a nibble. It bled, I cried, Brooklynn cried, and I went into the hospital to get it checked out. My breast was engorged and warm to the touch and the doctor confirmed it was mastitis. I was given antibiotics and told to keep the bite area clean and to keep nursing, so we did! Brooklynn was not a fan of any bottles, didn't like rice or oatmeal, and was not even a fan of baby food. My new title was Mommy Moo Cow and this time I was totally fine with that. Our breastfeeding journey ended when Brooklynn lost interest at 15 months old.
Our family did not stop at just 2 kids! Everyone was saying we had our boy and our girl and should stop, but we wanted a bigger family! We announced that we would soon become a family of 5! God had other plans for our family and I miscarried at 12 weeks gestation. Bentlee and Brooklynn were still too young to understand or know what was happening. It has been almost 3 years since my miscarriage, but we still talk about Bradley and remember him as our Angel looking over us and never having to feel pain. This is a topic not talked about much, but I would like to for a moment. I personally recommend women to have a DNC and not let your baby pass naturally. It was traumatizing to me and my husband and certain things still make us think of the horrific details of the day that I passed him. We hold onto the fact that he will never have to feel pain like we do and will have more time with God than we get! Bentlee and Brooklynn know about Bradley and we are open to answer questions whenever they come up.
After every storm comes a rainbow. God made that promise to us and he blessed our family yet again! We only told our parents and sisters until we felt ready. My due date was originally in January 2017, but at my anatomy scan they changed it to December 30. I have always had irregular periods, so that was no help. This pregnancy was unlike any previous! I had so much energy, was loving that I could play at the park or beach without being completely drained after, and was even able to enjoy some beautiful hikes and scenery in Hawaii. My husband was medically discharged from the Army and we moved back to Ohio. Christmas was only 3 days away and I was overwhelmingly uncomfortable. I had extreme back pain and couldn't even find comfort in a bath. I began speed walking on a treadmill and once again started climbing stairs. My contractions became regular and stronger by the minute. The closest military hospital was an hour from our hours so we had no time to question going or not. Not only was the hospital an hour away, but my delivery with Brooklynn was so fast that I wanted to make sure I got there in time. During the drive my contractions became less frequent and not as sharp. Being the eve of Christmas Eve not many businesses or services were open. Labor and Delivery was not crowded like usual. They checked me when I first got there and was at 4cm dilated, but they wouldn't admit me until I got to that lucky number 6! The nurses suggested I stay in the area and walk around the hospital to hopefully keep progressing. My amazing husband went out into the freezing cold and snow to the only restaurant open and closest to us, Buffalo Wild Wings. I walked around the hospital the whole time he was gone. When he got back I ate about 8 boneless HOT wings and not even 30 minutes later was checked again and was a good 6 cm dilated. I was given a peanut shaped ball to put between my legs to help bring baby down. There is no shame in getting an epidural, but I was still concerned with getting one considering my history with epidurals. After 45 minutes of being hunched over and not being able to move during these strong contractions the epidural was in place and I was laying flat. 3 hours had passed and I told my nurse that I needed to push. She called the Resident in to check me and she said I was 10 cm dilated and told my nurse to call the sleeping doctor down. The Resident then told me to give her a little practice push about 50% effort. In my mind I was thinking; 'Lady this not my first rodeo and I want this baby out NOW!' I pushed as hard as I could and was counting to 10 in my head. I think at about 4 she told me to stop pushing, but I didn't stop until I hit 10! The doctor walked in and the nurses helped her to get her gown and gloves on as quickly as possible. I gave the doctor 1 good push and our second little Princess was born. Bella Rose was placed right on my chest and I was in love all over again. Waking up Christmas morning in a hospital was weird, but not having the older two with us was very emotional for me. Thankfully Bella's jaundice levels decreased and we were all discharged to go home Christmas afternoon! This time my post partum experience was mind blowing. I had energy to play and keep Bentlee and Brooklynn entertained and found a great balance of time and activities that we could all do to have a good time. I started watching 14 month old twin boys when Bella was almost 6 months old and they are the best of friends.
If you have stuck with me this long Congratulations! If you don't take anything away from my babbling; I pray that every new mother whether planned or not, knows how beautiful their body is and no one knows your body or baby better than YOU! Find out what works for you and your baby (babies) without trying to please everyone else around you. There is no shame in seeking help if you need it, believe it or not you are not the first person to experience this and you can gain strength and friendship in surrounding yourself with encouraging women. You can do it, you are worth it, and you are doing your best!