5 Love Languages of Childbirth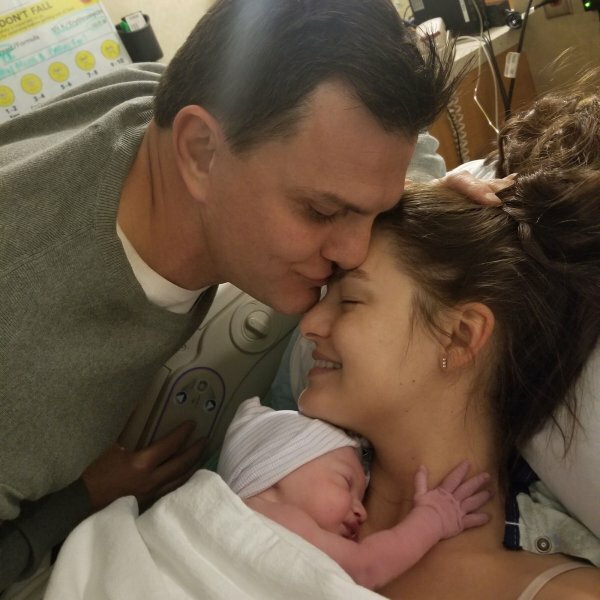 The month of February is all about LOVE. Everyone loves to feel it, receive it & give it. Love is such an intimate and powerful part of our lives. It's no different in pregnancy, birth and postpartum. Over the course of this month, I am applying The 5 Love Languages written by Gary Chaplain to pregnancy, childbirth and postpartum.
The 5 Love Languages is a book that my husband and I first read at the encouragement of our pastor before we got married. The 5 Love Languages outline both how we communicate and what we need to receive in our relationships. The book was a huge help in our first years together as we learned more about how the other not only communicates but receives information. There is even a book now based around children that is also helpful.
What are The 5 Love Languages?
Words of affirmation: Expressing affection through spoken affection, praise or appreciation.

Acts of service: Actions, rather than words, are used to show and receive love.

Receiving gifts: Gifting is symbolic of love and affection.

Quality time: Expressing affection with undivided, undistracted attention.

Physical touch: It can range from having sex to holding hands. With this love language, the speaker feels affection through physical touch.

Below, I will discuss how you can use each language during childbirth
Words of Affirmation
Mama's need their support team to encourage them through their entire labor. Giving her words of affirmation let's her know she's not alone. That what she is doing is awesome, courageous & beautiful. Tell her how much you LOVE her. Words can be so powerful. Be mindful on what you choose to say & those around you.
Positive empowerment can make a big difference in the birth process. As Mama use all of her energy to deliver baby, she needs this positive encouragement and peaceful environment to have the smoothest and comfortable labor possible.
Acts of Service
Some people think that the support person(s) only act is getting her ice chips (which is important), but there is so much more you can do . Anything you do for her to help her through to the next contraction is an act of service. Each contraction is one contraction closer to being done and your whole world is changing.
Getting cold wash clothes, chapstick, putting her hair up, applying counter pressure helping her walk the hallway or even get out of bed to use the restroom are all acts of service that don't go unnoticed, even if it seems likes its unnoticed in the moment. Doing them without being asked shows you are in tune with her needs.
Receiving Gifts
Not everyone thinks of gifts during labor. However, the smallest thing to give mama before or after birth is precious. It doesn't have to be some fancy piece jewelry (although most Mama's wouldnt turn this down). Something that you know she would LOVE is key. If you've heard her say she wants pizza after the baby comes, surprise her, have it ordered & door dashed over. Her favorite chocolate, candy, cookies or cake of AWESOME JOB honey. A basket of self care items so she can feel herself again. Maybe its a couple magazines to casually read before labor gets intense or in the postpartum room or small note/card of how thankful you are for her; these will all mean so much.
Quality Time
Quality time during this period can be tough - nurses and doctors are in and out; your not really alone; Mams is pain. BE PRESENT; having that intimate connection even if others are around is great. Talking, laughing & planning on what's to come. Its taken nine months to get her, but there was an entire journey before that of talking about getting pregnant, trying to get pregnant, don't let this moment just go. Look into her eyes with gentleness & security.
Give her your undivided attention. So put the cell phone away, turn off the TV & just be with each other more. If this is your first child, it may be awhile before you are alone again.
Physical Touch
Physical touch can be a powerful tool to help mama through labor. Yes, sometimes mama doesn't want you to touch her, but that changes throughout the labor process, some time even from contraction to contraction. Massaging her back, feet & hand can be relaxing when done at the right pressure for her. Brushing or running your fingers through her hair; a gentle scalp massage can help calm her fears and anxiety. Giving her kisses (lips, cheek, forehead or hand) every so often might be the calming force she needs. So when possible give her a little touch to let her know you got her.
Childbirth is a marathon of emotions, not to mention physically and mentally exhausting too. Mama has worked for nearly a year to get to this moment and deserves all the pretty things. Try and help her through the process by showering her with love.
Want a Doula to Help During This Time?
If you are in the Cincinnati or Dayton, Ohio area – look no further. Tamara Kankowski is a certified birth and postpartum doula as well as a childbirth educator. Tamara provides support to families everyday across the region. Tamara has an affordable birth doula package that includes personalized support during your pregnancy, labor and delivery that continues through your first eight weeks postpartum. HA birth package includes unlimited support throughout both pregnancy and labor - 24/7, including phone/text support, helping with birth positions and support to guide you to have the birth experience that you want!