What to Ask (Yourself and the Doula) When Considering a Doula
Back To Blog
What to Ask (Yourself and the Doula) When Considering a Doula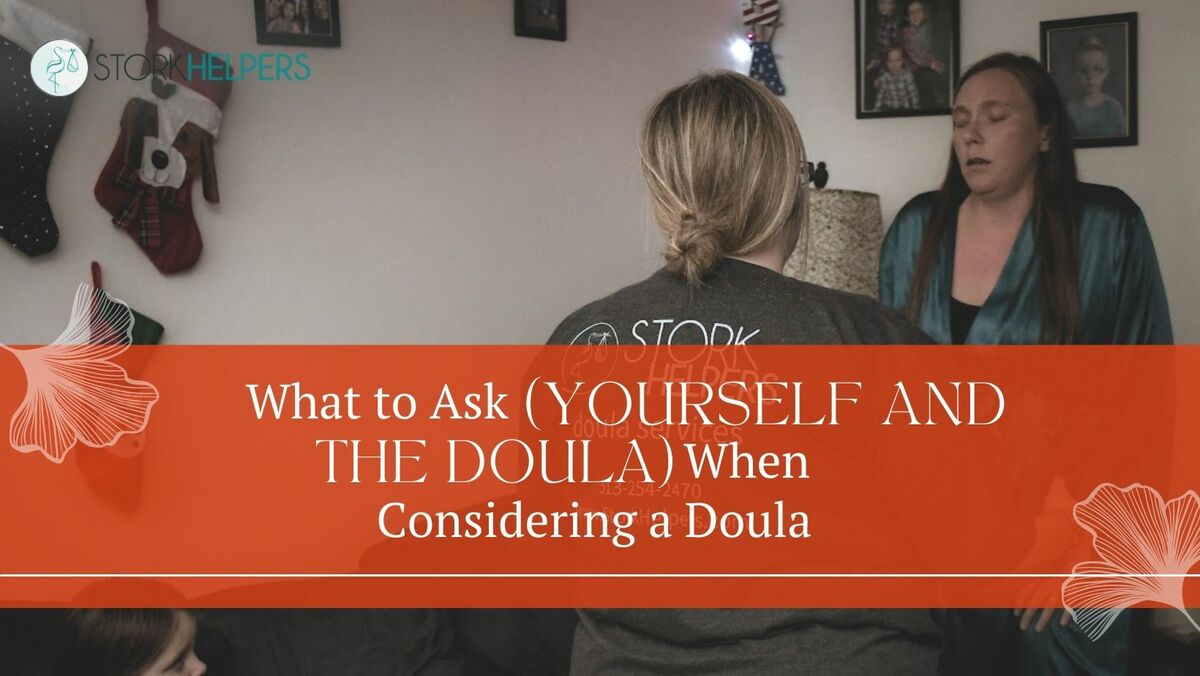 If you are pregnant, a doula can be a great source of knowledge, experience, and comfort.


Many second (or third, or fourth) time mothers wouldn't even consider going through a pregnancy without the help of a doula. Doulas are essential for emotional support and can help you weigh your options throughout your pregnancy.


"When I found out I was pregnant with my second child, I knew I wanted to bring this baby into the world with little to no interventions possible. I started doing my research and talking to other women who have birthed children unmedicated and I was advised to look into a doula. Cue searching the internet and Facebook relentlessly until I stumbled upon Tamara! My husband and I set a date and time to meet with her, and the encounter was SO natural! I felt like I had known her my entire life... And I will NEVER bring another child into this world without her standing there right by my side!" - Aimee


However, many people do not know exactly what it is a doula does.


Since doulas have increased in popularity in recent years, you may be wondering if a doula is right for you and your pregnancy.


When searching for a Cincinnati or Dayton doula, you may not know what questions to ask (both yourself and your potential doula).


In this post, Stork Helpers has assembled a list of the best questions to ask when you are looking for a doula during your pregnancy. Keep reading to learn more!


Ask These Questions When Looking for a Doula


The most important thing to consider when looking for a doula is finding someone who makes you feel heard and supported. Use the questions below to find a knowledgeable and qualified doula who is right for you.


Ask these questions.


What are your qualifications?


Different organizations certify doulas to practice. These certifications state that the doula is knowledgeable on different best practices and has met the necessary training requirements.


How long have you been practicing?


The experience level of your prospective doula can help you determine the best fit for you.


You might feel more comfortable with a doula who has "been there and done that," or you may find that you can more easily relate to a doula closer to your age. It all comes down to what makes you the most comfortable.


What is your philosophy about birth?


Different doulas believe in different ideas. A good doula will always support you and your decisions, but it can be helpful to have a doula who is on the same page as you.


Why did you become a doula?


Understanding your doula's motivation for their work can help you determine if they are the right fit for you.


How do you support women in labor?


One of the doula's most important jobs is support during labor. Different doulas have different approaches, find the doula that best suits your needs.


What is included in your doula packages?


Make sure you understand the cost of your doula's services and what you can expect throughout your pregnancy.

How do you feel about home births?


Whether you want a home birth or not, a doula's opinion on home births can often speak to how open-minded they are when considering your options.


Do you have a backup doula?


It is very unlikely, but if your doula is unavailable during your pregnancy (due to another delivery or medical emergency), they might have a backup doula ready to assist you in their place. Ask if you can meet the backup doula and ensure that they are compatible with your needs.


What will I learn in your classes?
Many doulas offer pre-birth classes to prepare you for the big day. Ask what you will learn and how it will help you prepare for labor.


How can I best contact you with questions?


Contact with your doula and prompt responses is one of the most important services your doula will provide. Make sure that your doula and your doula are compatible when it comes to communication.


Do you have experience with birth complications?


Complications can happen during birth. The right doula will help you navigate challenges and can help you keep your cool even if things go off plan.


Do you have experience with breastfeeding instruction?


Many mamas want help to ensure that they are breastfeeding properly. If you want a doula that will help you with breastfeeding instructions, this is an important question to ask.


Do you offer additional services, like placenta encapsulation?


Many doulas offer services other than pregnancy and birth support. Ask if your prospective doula can offer you other services like placenta encapsulation.


Excellent Doula Support from Stork Helpers


Many pregnant mamas choose to get additional support from a doula during their pregnancy and labor to ensure that their baby is brought into the world safely.


However, just because a doula is right for a friend or family member, that doesn't mean the same doula will be right for you.
Different mamas have different needs, and you must have your needs met.


If you are searching for an excellent doula in the Cincinnati and Dayton area, be sure to get in contact with Tamara or Skylar at Stork Helpers. Stork Helpers is an experienced doula team who has supported over 150 families (and counting).


Always listening, never judging, the Stork Helpers team is here for you.


If you are looking for a doula, reach out to Stork Helpers today!


Are you happy with the difference Stork Helpers made during your pregnancy? Leave us a review on Google!