The Role of Doulas in Supporting Families During Cesarean Birth
Back To Blog
The Role of Doulas in Supporting Families During Cesarean Birth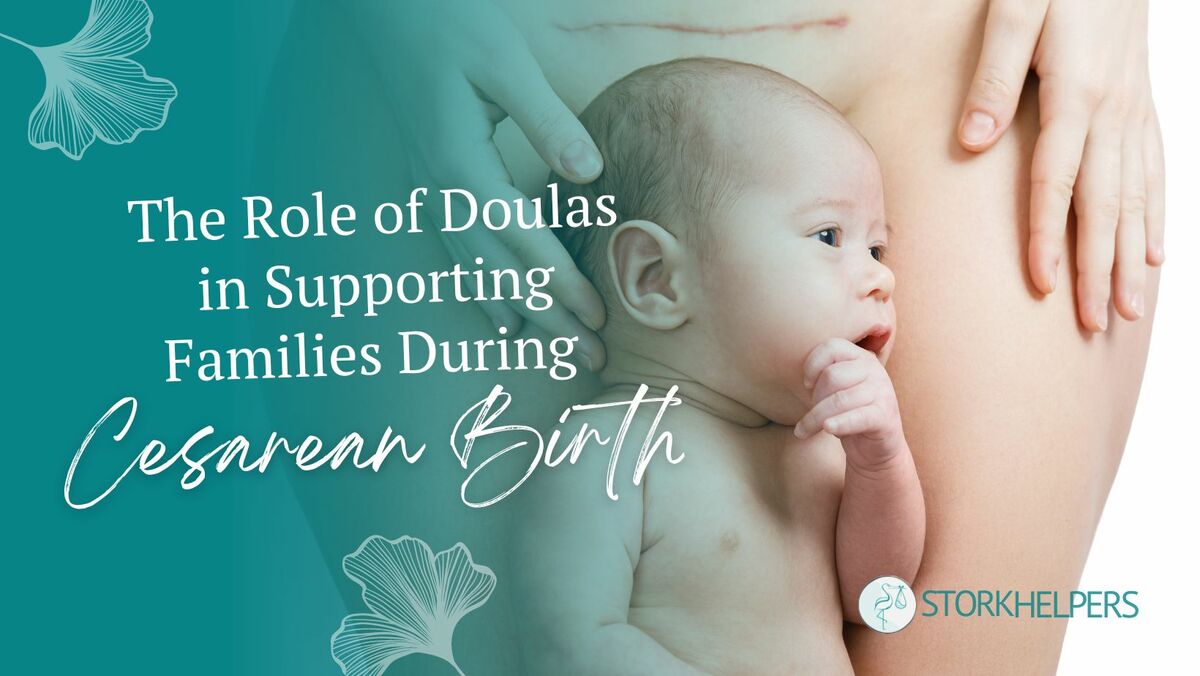 Doulas are an important part of any mama's birth story.
Your doula is there to be your advocate before, during, and after birth, to ensure that you are informed of your options and that your needs and preferences are met.
Pregnancy, birth, and postpartum are such chaotic times that it is no wonder so many mamas feel overwhelmed and struggle to make their voices heard. Families are a great resource for supporting pregnant mamas, but they often lack the experience needed to truly be an advocate in the birth room.
Doulas are a fantastic option for supporting a mama throughout her pregnancy and after, but where do doulas fit in the case of a cesarean birth?
What is a cesarean birth and what should I expect? Learn more here!
Cesarean births are very common and if you are pregnant, you need to be aware that cesarean birth is a possibility. So, what can doula care in Cincinnati or Dayton offer you if you do need a cesarean birth?
This post will go over the role doulas play in supporting families during a cesarean birth.


Cesarean Birth and Doula Care in Cincinnati and Dayton


Giving birth is stressful, and cesarean births -- whether planned or emergency – only make matters more complicated.
Doulas are incredibly helpful during cesarean births to help mama remain in control.
Let's take a look at some of the top benefits of having a doula present at your cesarean birth.


Emotional support

Doulas provide emotional support and encouragement to families to help slow things down during birth and keep things calm if the unexpected should happen. They offer a listening ear, comfort, and support to help families feel empowered and confident throughout the birth process.


Physical support

Doulas can provide physical support during the cesarean procedure by helping the mama to relax. Your doula can also teach you breathing techniques to help reduce the intense feeling of discomfort.
Not only that, but Doulas offer practical help, such as holding the baby or offering childcare during recovery.


Information and advocacy

Doulas are knowledgeable about the C-section process and can provide families with information and resources to help them make informed decisions.
They can also act as an advocate for the family's needs and desires, ensuring that they have the support they need throughout the birth experience. This is especially important as cesarean sections often involve localized anesthesia, meaning mama is awake during the procedure.


Continuous care

Doulas are with families from the start to the finish of the birth process, providing continuous care and support throughout. This helps families feel secure and comforted, knowing that they have a trusted and experienced ally by their side.
With your Stork Helpers doula, you will never feel confused or abandoned, we will walk you through the entire process from start to finish.
Doulas are here to ensure you get everything you need, including skin-to-skin care. Learn more here!


Preparing for a C-section birth

Doulas can help families prepare for a C-section birth by providing information on what to expect and assisting in the creation of a birth plan. They can also help families understand the risks and benefits of the procedure, and address any concerns they may have.
Sometimes being informed is the best thing you can do to overcome anxiety. Doulas have helped dozens of mamas just like you and have seen births of all kinds. They will know what is coming next and can help you prepare for your cesarean birth.


Stork Helpers is Here for Your Cincinnati or Dayton Pregnancy and Birth

Doula care and labor support are important no matter what kind of birth you plan to have.
However, during a cesarean birth, doulas are an important part of ensuring that the mama gets the support and care she needs. Cesareans can be very stressful, and it can be easy for mama's voice to get drowned out.
When you work with Stork Helpers, your doula will ensure that you are heard and that your needs are met.
If you are having a cesarean birth, don't brave it without a doula. Reach out to Stork Helpers.
The Stork Helpers doulas are here to make sure your pregnancy and birth happen the way you want them to, and that you and your baby are safe and happy throughout the entire experience.
Always listening, never judging, Stork Helpers is here for you! We proudly help mamas in Cincinnati, Dayton, Hamilton County, Warren County, Butler County, Clermont County, and Miami County.
Schedule your appointment to meet Tamara and Skylar today!
Are you happy with the difference Stork Helpers made in your pregnancy and birth? Let us know by leaving a quick Google review here!
Don't miss out on the best! Stork Helpers posts free pregnancy and birth tips for mamas and their families! Follow us on Facebook, Instagram, and LinkedIn!