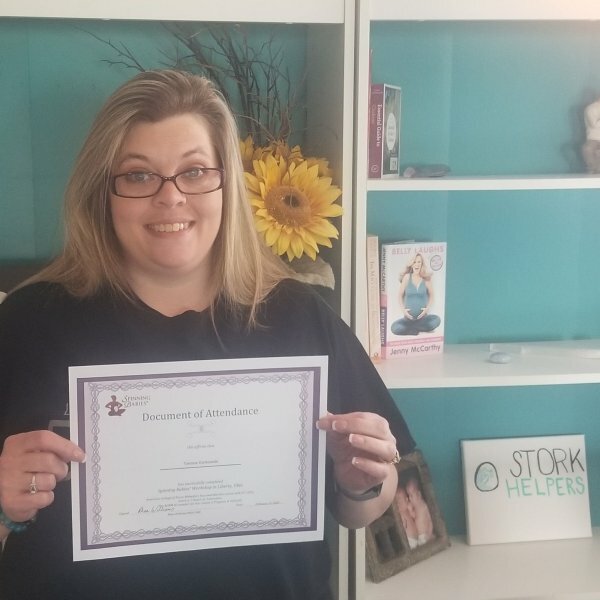 Last year, I spent the weekend in northern Ohio at a training workshop. The training was not something that I wanted to do, as I knew it would be highly emotional. But I knew it was something that I HAD to do. Birth is not routine, every birth is different and not all births have the outcome that any one wants. The seminar was a training on how to be a Bereavement Doula. A doula for families dealing with the loss, whether unexpected or planned, or their baby.

Doulas serve an incredible role in a famlies birth plan. During this most traumatic time in a families life, a doula is there to make sure they are aware of all their options to make sure they are given the space they need in the moment they need it the most.

Over the course of the year, I have read and studied, and read some more to help me most prepare for something that no one person can ever be prepared for. I am honored to now be certified as a bereavement doula - to help familes through a time that no parent should have to go through.

I will be using my bereavement certification in two ways. The first, is that it is just added training for all my birth families should anything ever happen. The second, I will be offering free bereavement services to families who know they will be losing their child. If I am availabile, I will be there for you.

Whats Included:
24/7 Support. Throughout your pregnancy and up to 8 weeks postpartum. Call Tamara anytime day or night for a listening ear and guidance..


Prenatal visits (as time allows) to answer questions or just sit and listen for a while to all that is going on - all while helping to prepare your family for what is to come. Tamara will meet you at home or wherever is most convenient for you.


Unlimited in person labor and birth support; whether your labor is 1 hour or 35 hours; Tamara is there. Tamara will help make sure things are in place before contractions get to instense.


Tamara will take birth photography as well as candid photos to capture as much as possible for you, but is not a professional birth photographer.


Tamara will assist with introductions to siblings, family and friends. The day can be very emotional and when you are at a loss for words, sometimes its easier to allow Tamara to help with introductions or explaining some of what is going on.


Tamara will assist with funeral or memorial arrangements. Whether that is going to the funeral home, helping with errands, support the day of the funeral; or anything else you may need you can feel confident that Tamara will be support you.


Tamara will guide you in finding lactation and postpartum resources as well as grief support and resources.
1 postpartum visit with you at your home to see how everyone is doing post birth. This visit usually lasts an hour or longer based on what your needs are. Tamara is here to help you with whatever you might need whether its help switch a load in the laundry, do some light cleaning or just sit and talk. Since Tamara never goes anywhere empty handed, she comes with a homecooked meal to give you the night off from cooking or having to order another meal from the drive thru.
Tamara understands that the postpartum phase can be extremely difficult. You and your family are learning what is going to be the "new normal" for a while. That is what Tamara will call/text you each week for the first 8 weeks postpartum to check on you. You can call/text her anytime as well, but she will follow up with you if she hasn't heard from you to make sure mama is being taken care of too!
If you know someone who is in need of support in Cincinnati, Dayton or Northern Kentucky, please contact me and I will be happy to help in anyway that I can.