5 Love Languages of Postpartum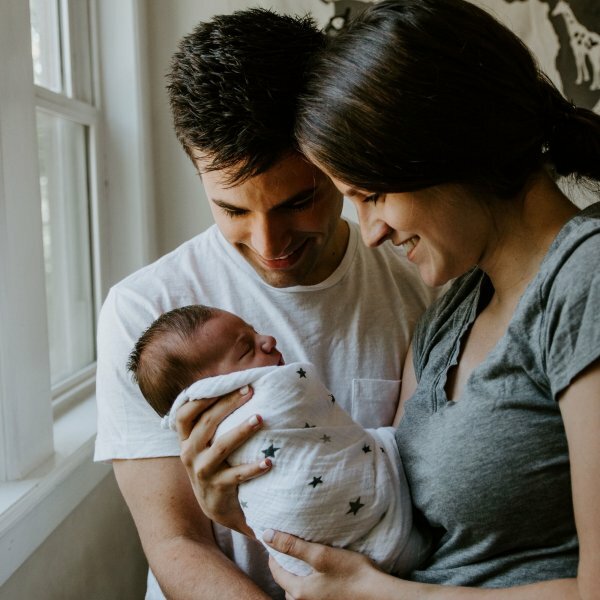 The month of February is all about LOVE. Everyone loves to feel it, receive it & give it. Love is such an intimate and powerful part of our lives. It's no different in pregnancy, birth and postpartum. Over the course of the month, I have been applying The 5 Love Languages written by Gary Chaplain to pregnancy, childbirth and postpartum.
The 5 Love Languages is a book that my husband and I first read at the encouragement of our pastor before we got married. The 5 Love Languages outline both how we communicate and what we need to receive in our relationships. The book was a huge help in our first years together as we learned more about how the other not only communicates but receives information. There is even a book now based around children that is also helpful.
What are The 5 Love Languages?
Words of affirmation: Expressing affection through spoken affection, praise or appreciation.

Acts of service: Actions, rather than words, are used to show and receive love.

Receiving gifts: Gifting is symbolic of love and affection.

Quality time: Expressing affection with undivided, undistracted attention.

Physical touch: It can range from having sex to holding hands. With this love language, the speaker feels affection through physical touch.
Below, I will discuss how you can use each language during postpartum.
Words of Affirmation
After having a baby sometimes Mama's can get discouraged with how things are going. So much of her body is now out of her control as she is internally battling her hormones as they come crashing down after the birth of baby. She often can feel isolated in a way she wasn't prepared for as her who life has become dedicated to this new life she created. She doesn't need to hear how she should be handling something. Or that she's doing it wrong. Encouraging her to try a different way is a better approach. Telling her what a great job she's doing can brighten her day more than you will ever know. Telling her how proud you are of her with everything she went through. Continue to encourage her throughout the day, even if you are not home.
Acts of Service
Making sure house chores are done so she can focus on that new bundle makes it easier than you think. This act of service makes it so she can take that needed nap & shower. THe ability to not have to think about things that need to be done relieves pressure of having to be SUPERMOM. Showing her you are there to lend a hand helps her feel you are in this together. Having friends & family make meals to last for a few weeks or a month can also relieve pressure, but also make sure she's being taken care of.
Receiving Gifts
Like in pregnancy her body is still going through a lot. It's recovering from growing, contracting & pushing a baby. A massage, getting a pedicure & getting her hair done can help her feel herself again. Bring her a card, flowers & candy will show her you are still crazy about her. Little things, no matter how small can mean a great deal to a Mama who is tired and exhausted.
One of my favorite gifts was a small scrapbooking retreat. My husband gifted me with 48 hours with my friend at a local retreat to scrapbook when one of our daughters was about 3 months old. It didn't cost much, but the time was amazing. 48 hours away to be me - he stayed home with the 5 kids all weekend, had bought all the groceries, fed our daughter from my pumped breast milk so that I could have a mental break. It was just what I needed so I could come back refreshed and take care of my daughter more.
Quality Time
Quality time can be hard when you have that new bundle in your life. Be creative in your time together; because let's face it, there isn't much time alone. Diapers, laundry, baths, dishes, household chores, errands, feedings every two hours doesn't leave much time, especially when sometimes Mama is trying to nap while baby sleeps.
One of my personal favorites during several postpartum periods were home dates. Home dates can be very sweet; holding your baby in your arms as you watch a movie can be just as great as being alone together. On the weekends, my husband would leave while I did the most recent feeding and grab some Olive Garden (seafood alfredo and breadsticks please) and a movie from a Redbox machine. When he came back he would blow up the air mattress and we would sit in our dark living room with our baby stuffing our face with food while watching a movie. It wasn't much and we were definitely not alone but at the same time it was the whole world.
Sometimes giving her time with friends to get a cup of coffee can be so refreshing & uplifting. Encourage her to get out for a break here and there so she can rest. She is mentally exhausted and these little breaks can break up the monotony of feed, change, sleep, repeat.
Physical Touch
Giving physical touch can help her feel some intimacy. Being intimate means different things to everyone. Cuddling on the couch or in bed can give her that intimacy. Having her feel your closeness can make her feel she is not alone or that still attractive during a period of time when many women feel the least attractive. Again, it's the little things that you can do for Mama to make her feel better; a kiss on her forehead while she is feeding baby, holding her hand, rubbing her back a little or her feet. Sometimes the things that seem the most insignificant make all the difference.
Postpartum can be very emotional and scary time. If you notice a change that is more dramatic or Mama doesn't seem happy at all, encourage Mama to talk to someone. The postpartum period can be very isolating; seeing someone doesn't mean that she has failed. Most people don't talk about what it really feels like after baby gets home, because everyone thinks you should be happy because you finally have your baby. However, as hormones go crashing down and struggle to balance back out, the postpartum journey can be very difficult for all involved in the home. The best thing to do is give her a listening ear & help her ask for help. Postpartum depression is nothing to put on the back burner and needs to be addressed as quickly as possible.
Want a Doula to Help During This Time?
If you are in the Cincinnati or Dayton, Ohio area – look no further. Tamara Kankowski is a certified birth and postpartum doula as well as a childbirth educator. Tamara provides support to families everyday across the region. Tamara has an affordable birth doula package that includes personalized support during your pregnancy, labor and delivery that continues through your first eight weeks postpartum. Hourly postpartum support is also available for Mama; whether it is conversation, holding baby so Mama can shower or nap, or helping with some light housework, Tamara is here to help.