Homeopathy for Morning Sickness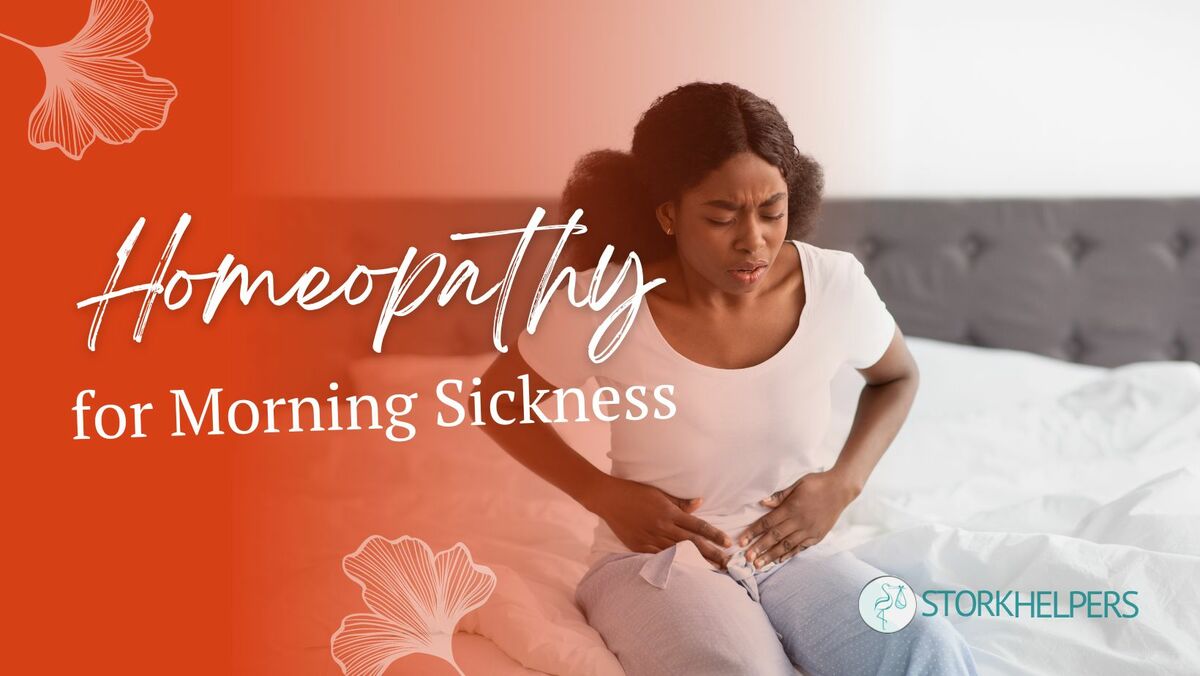 Pregnancy can be challenging, no matter how much support you have.
Morning sickness can be one of the most frustrating parts of the early months of pregnancy. Nobody wants to feel sick, but you may feel reluctant to reach for the medication (even over the counter) since you have a life growing inside you.
You don't have to suffer through morning sickness, there are homeopathic remedies that can greatly help ebb the nausea that often comes with the first trimester of pregnancy.
If you are curious about the natural, homeopathic remedies that can help you overcome your morning sickness, this post will outline a few of the top options for Cincinnati and Dayton moms!


Common Home Remedies for Morning Sickness


For most mamas, morning sickness begins before 9 weeks of pregnancy and ends around the beginning of the first trimester. However, every woman is different, and for some mamas, morning sickness can last far past the first trimester and go throughout the entire pregnancy.
The good news is that many home remedies can help improve your experiences with morning sickness.
Here are a few of the most popular homeopathic and home remedies for morning sickness.


Ginger


One of the most popular and the most basic! Ginger is perfect for reducing nausea, even during pregnancy. Ginger tea and juice with ginger are the best for helping nausea, but you can reach for ginger ale too if that is your preference!


Lemon


Another common household ingredient that can reduce nausea, lemon is a popular method for beating morning sickness. A lemon slice, lemon water, or lemon tea will boost your hydration and help ebb your nausea.


Arsenicum


Take Arsenicum if some of the following apply to you.


You have nausea with vomiting |


You vomit easily, and frequently, and sweat while doing so


Vomiting can cause you to faint


You are anxious, irritable, and restless


You feel better when laying down and take comfort from warm sources


Colchicum


Take colchicum if some of the following apply to you.


You are extremely sensitive to food smells – especially meat, eggs, and fish


The sight of food makes you sick to your stomach


Your stomach is bloated, and you have no appetite


Nausea is intense, serious, and lasts all day


Nausea is worse from motion


You dry heave, and your nausea is worse than the actual vomiting


You feel thirsty and crave fizzy drinks


You only feel okay when sitting and your nausea worsens as the day goes on


When laying down, your legs must be curled up by your stomach


Ipecacuanha


Take ipecacuanha if some of the following apply to you.


Your persistent nausea is not relieved by vomiting


Nausea lasts all day and makes you annoyed and irritable


You feel like you have too much saliva and need to spit frequently


Nausea gets worse when you lay down at night


Kali Carbonicum


Take kali carbonicum if some of the following apply to you.


You have nausea with no vomiting


Nausea strikes you while you are walking around


Backaches accompany your nausea


You feel better when laying down in a warm bed


Pregnancy Support and Wisdom You Need from Stork Helpers


For mamas that struggle with morning sickness, homeopathic remedies can be a huge relief.
There are many homeopathic remedies out there that help address morning sickness, but not every remedy will help every mama. Look for remedies that address your specific symptoms and don't be afraid to ask for advice from your support team.
Unfortunately, morning sickness is not the only stressor mamas face during pregnancy and every mama could use a little extra support.
That's where your doula from Stork Helpers comes in. We give Cincinnati and Dayton mamas the support they need throughout their entire pregnancies.
From advice, to education, and services like placenta encapsulation, Stork Helpers handles it all to you feel supported, heard, and cared for throughout your pregnancy.
Always listening, never judging, Stork Helpers is your doula service in Cincinnati, Dayton, Warren county, Hamilton county, Clermont county, Butler county, and Miami county.
If you are ready for a doula, or you want to reach out to explore your options, book an appointment to meet the doulas here!
Are you happy with the Stork Helpers difference? Leave us a review on Google here!
Also, follow us on Facebook, Instagram, and LinkedIn for more free tips to help you navigate your pregnancy.