Fun Things To Do In Cincinnati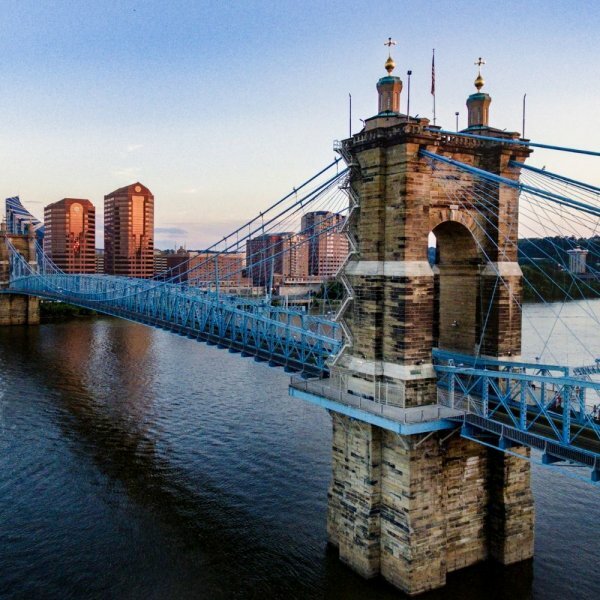 School is out all across southern Ohio at this point and the kids are bored - most likely because they have spent most days locked up in the house due to rain. Read our list of some fun things to do across town with the kids that are low cost that are both indoor and outdoor fun. Have fun Cincinnati!
Riverfront Park
Smale Riverfront Park is in the heart of downtown Cincinnati by The Banks. You can walk along the Ohio River, take the kids to the playground or splash areas or relax on the swings. You can also take a stroll through downtown Cincinnati and eat lunch (our personal favorite is Wahlburgers). If you feel like taking a little extra long stroll to cross the Purple People Bridge and go to Newport on the Levee. While you are there, you could cool off and see a movie at AMC Cinemas (bonus: the seats recline) or ride the Skystar Ferris Wheel.
Frisbee Golf
There are plenty of places to go play Frisbee Golf across Cincinnati (when it's not raining). One of the places we plan to check out this summer is the new frisbee golf course at Warren County Armco Park. Can be a great time out in the summer sun and provide lots of laughs. Just be sure to pack the sunscreen
The Web
Located in West Chester, this is usually one of our go-to places during winter break when the weather is not cooperating. However, this summer, with all the rain, this could be the perfect place to take the kids. With a large family, entertainment options can get expensive pretty quickly. The Web has daily specials that can help take out some of the sting from your wallet. Our personal favorite is to go on Mondays when the attractions are Buy 1 Get 1 Half Off.
Entertrainment Junction
Also located in West Chester, Entertrainment Junction, has been a family favorite for years.
At EnterTRAINment Junction, you can Marvel at the world's largest indoor train display (that's 25,000 sq. ft. of model trains on an enormous train layout), bounce, climb and crawl in a spectacular children's play area, engineer your own locomotive around a track in a hand-cranked railroad car, and enjoy the greatest funhouse on earth. It's like a theme park and it's all indoors!
Half Price Books
We love going to Half Price Books and seeing what kind of deals you can get in the clearance area. As a part of keeping the kids doing something besides watching TV during the summer, I make the kids read everyday. They have to do 30 minutes of reading every morning. It's usually enough time to allow me to take a shower without being interrupted. Since they do the reading, we have the kids participate in Half Price Books Summer Reading Program. The kids read and then turn in the logs at the end of the month and they get rewarded with a $5 gift card (one of June and one for July). It's an awesome way to reward them for doing something educational over the summer that doesn't cost anything. You can also look up summer reading programs at your local library. Our library in Lebanon has one as well that the kids participate in.
Movies
Going out to the movies can be costly, but with all the rain this summer, it has felt like the only choice sometimes to get a couple of hours out of the house. While there are several programs in the area, Cobb Theatres at Liberty Center, has a FREE movie program on select weekdays. On Tuesdays, Wednesdays and Thursdays at 10:00am, they play a free movie for families. Doors open at 9:30am and be sure to get there early. Our one experience this year had a line already but we got in without a problem.
Summit Park
We haven't been here yet (have we mentioned the rain this summer), but we have heard great things about Summit Park and once there is a sunny day, we plan to go. We have heard that they have an awesome playground, an observation tower and a new Nature Scape area for families to hang around in.
Loveland Castle
Take an educational, fun filled day out to Chateau Laroche, also known as Loveland Castle. You can spend several hours there - take a tour of the castle and learn about it's history (some say its haunted) and pack a picnic lunch eating along the Little Miami River. It can be a great way to spend the day.
Bowling and Roller Skating
There are plenty of choices across the Cincinnati area to enjoy the fun activities. You can soften the cost a little by sign up for Kids Bowl Free and Kids Skate Free. For kids 12 and under, they can go everyday to select centers for FREE (there could be a cost for shoe or skate rental). Great option that can keep the kids busy and active burning off all the extra food they are rationing from the pantry of the summer. Added bonus: perfect for rainy days, not that Cincinnati knows anything about that.
Donut Trail
Who doesn't love donuts? We will be spending some this summer completing this awesome challenge. After running off some energy across Cincinnati, spend some time taste testing donuts across Butler County. Take some time once per week and you can complete the challenge over the summer - and get a FREE T Shirt. One of personal favorites is on this list, Milton's Donuts. What's your favorite donut shop?