Cincinnati and Dayton Hospital and Home Births: Which One is Right for Me?
Back To Blog
Cincinnati and Dayton Hospital and Home Births: Which One is Right for Me?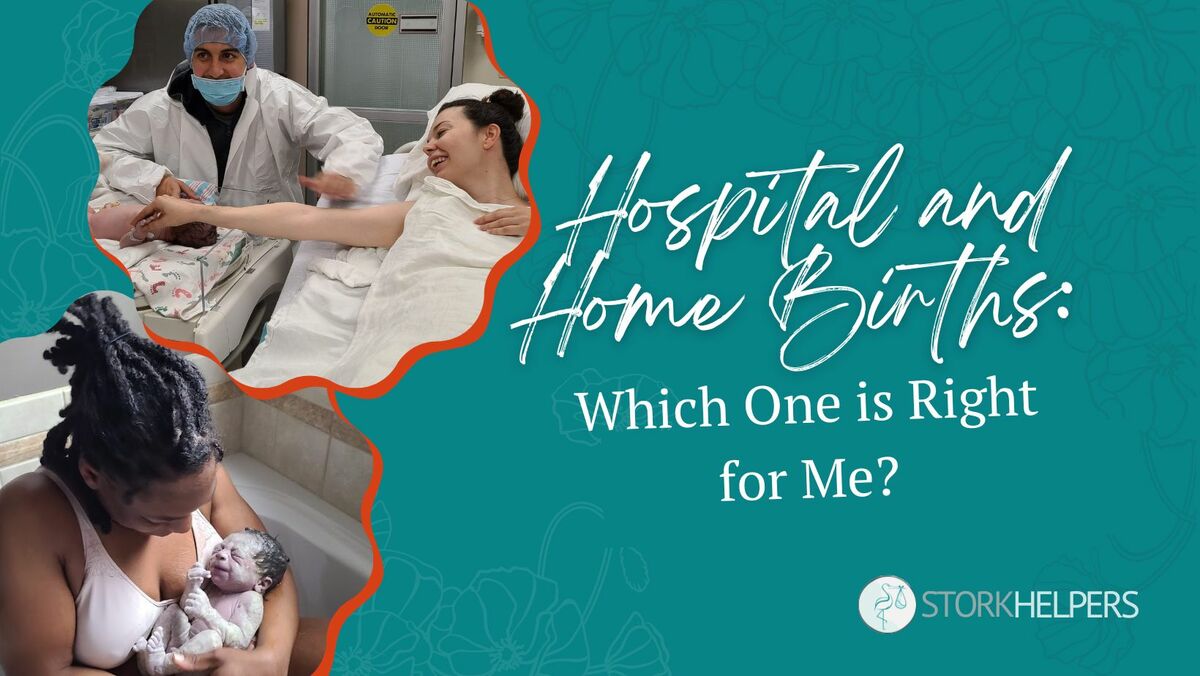 When you are pregnant, there are many things you must learn and decide.
One of the most important decisions for you to make is whether you want a home or hospital birth.
Both are safe options that thousands of women choose each year. However, every woman is different, and her preferred birth location is a decision only she can make.
So, how do you know which choice is better for you and your baby?
Stork Helpers has assembled a quick guide to help you weigh your options when deciding between a hospital and home birth. Keep reading to learn more!
How to Decide Between a Home and Hospital Birth
Home births and hospital births both have different advantages. Be sure to weigh your options carefully before deciding which option is your preferred method of birthing.
Let's look at some of the major advantages of each option.
Why You Might Choose a Home Birth
Many women are choosing to give birth in the comfort of their homes. This is a common practice in Europe and one that is gaining momentum in the United States.
Here are some reasons you may choose a home birth.
The cost of a home birth is lower than the cost of a hospital birth
Your hospital is too far away
You have cultural or religious concerns about giving birth in a hospital
You have the desire for more control of the birthing process
You have been dissatisfied with hospital care in the past
You have the desire to give birth in a familiar and comfortable place
You want to give birth without medical intervention (like medication, labor induction, fetal heart rate monitoring, or birth assisted with forceps or other tools)
You do not want to be separated from your baby
There are many reasons you may choose a home birth. Many mamas opt for water births, or births right in their beds.
It can be comfortable to give birth in a familiar and controlled environment, away from the chaotic and loud environment that is a hospital.
Talk with your doula about your birthing options to find the best choice for you.
Why You Might Choose a Hospital Birth
While home births are a safe and popular option, they are not right for every mama. Many mamas still prefer a more traditional hospital birth.
Here are some reasons you may choose a hospital birth.
Your baby is not in a position that will allow for a headfirst birth
You have had a C-Section in the past
You want medications to help ease your labor
You feel more comfortable surrounded by a team of doctors
You have medical concerns that make labor risky
You are pregnant with twins or triplets
Many women still choose hospital births as their preferred environment. But, if you have a low-risk pregnancy, a home birth is a perfectly safe option too.
It all depends on what makes you feel most comfortable. Never settle for anything less than what you need, mamas!
Stork Helpers is Here to Help You Get the Pregnancy and Birth You Need
Every mama is different. Because of this, everyone's pregnancy and birth journey will not be the same.
The most important thing is that you get what you need out of your pregnancy and birth.
If you want a doula who is always here for you to ensure that your voice is heard, you know your options, and you have all the information you need to make the right choice for you, then it is time to reach out to Stork Helpers.
Whether you want a home or a hospital birth in Cincinnati, Dayton, and Northern Kentucky, Stork Helpers is the birth doula service for you!